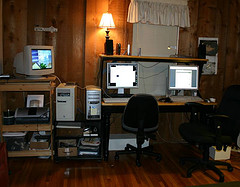 A 43-year-old man in San Antonio, Texas was sentenced Friday on 22 counts of possession of child pornography to 220 years in the Texas Department of Criminal Justice. Each count of possession of child pornography, a 3rd degree felony, carries a maximum range of punishment of 10 years. But, Judge Herr of the 186th elected to run each sentence consecutive to one another, making one of the longest sentences that prosecutors can remember in Bexar County history.
During the punishment hearing, the prosecutors presented two women who testified that they were sexually abused by the defendant when they were very young. The prosecutors told the judge that he was not just possessing hardcore child pornography, but he was a sexual predator who would strike again if he was released in 10 years.
What you do in the privacy of your home may not be so private when it comes to the internet. With the internet making information readily accessible, prosecuting cyber and computer crimes has been pushed to the forefront of the U.S. Attorney's agenda. Recently, U.S. Attorney General Eric Holder made news when he announced that 72 two defendants will be prosecuted in the most expansive possession of child pornography case in U.S. history. U.S. officials used the name Operation Delego to investigate a vast international online community that was allegedly trading graphic images and videos of adults sexually abusing children.

Because child pornography generally is transferred and downloaded via the internet, these types of cases can be prosecuted in both federal and state court. In Texas, a person charged with possessing child pornography faces a maximum of 10 years in prison. However, each image of child pornography may be considered a separate count and the judge may stack the sentences as Judge Herr did in the above case. It is an affirmative defense to possession of child pornography that (1) the defendant is the spouse of the minor; (2) the conduct was for educational, medical or law enforcement purpose; or (3) the defendant is not more than 2 years older than the child.
Promoting child pornography is a felony of the second degree, which carries a maximum of 20 years in prison. The law presumes that anyone who possesses six or more images is promoting child pornography. These offenses may require an individual to register as a sex offender as well.
Defending against child pornography charges involves complex computer and legal issues and requires an experienced criminal defense attorney. Dayna L. Jones has represented clients facing charges for possession of child pornography. If you or a loved one has been arrested for possession of child pornography or are under investigation, it is critical to hire a lawyer immediately. Contact the Law Office of Dayna L. Jones at (210) 255-8525 to set up a free initial consultation.