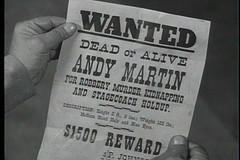 In a modern twist of the Old West's wanted posters, twelve digital billboards around San Antonio, Texas are now showing the names and pictures of individuals who have warrants for felony driving intoxicated related offenses with the word "WANTED" directly above the person's name. In addition to showing the face and name of the suspect, the billboard also lists the specific felony offense they are charged with. The billboards only show individuals who already have an active warrant for their arrest.
According to the San Antonio Police Department, there have been approximately 3,500 driving while intoxicated related offenses so far in 2011. Mothers Against Drunk Driving supports the use of the billboards which are being donated by Clear Channel Outdoor.
The billboards are not the only recent efforts law enforcement officials have implemented this year. The San Antonio Police Department working in conjunction with the Bexar County District Attorney's Office are now making all weekends and most long holidays, such as the week of Fiesta, "no refusal" weekends. This means if an individual arrested on suspicion of driving while intoxicated refuses a breath test, the officer will get a warrant to draw the individual's blood. Defense attorneys practicing in Bexar County have also noticed the plea offers for all DWI's have increased.

The problem I always see with placing accused, not convicted, individuals on public display, whether it be in the newspaper, televised news, or on a billboard, is that the presumption of innocence is overshadowed by the media stating this person is wanted for a particular crime. As a community, we need to remember that just because law enforcement say these individual's are wanted on the charges listed, does not mean they are guilty. The presumption of innocence is always lost, at least a little, when an accused is paraded through the media with their name, their photo and the charges against them where the community can see.
A fundamental right accorded anyone charged with a crime in the United States is the presumption of innocence. Until the individual charged pleads guilty or is found guilty by a judge or a trial is presumed innocent. Media has played a role in many aspects of our legal system, however a sometimes damaging role is when media is allowed to portray an accused a convicted criminal before they have had their day in court.
Attorney Dayna L. Jones has successfully represented individuals charged with alcohol related offenses. If you have been arrested or are wanted on suspicion of a driving while intoxicated related offense, contact the Law Office of Dayna L. Jones immediately at (210) 255-8525.