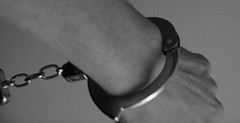 Hannah Overton, who is currently serving a life sentence without the possibility of parole, is back in the 214th District Court in Nueces County, Texas for a hearing on her application for a writ of habeas corpus with her writ lawyers lead by Cynthia Orr and assisted by Gerry Goldstein, John Raley and Dayna Jones. In 2007 Hannah was tried in the 214th District Court, Nueces County, Texas. She was found guilty of capital murder by omission in the poisoning death of 4 year old Andrew Burd.
In a rather uncommonly strict remand order, the Court of Criminal Appeals ordered on February 8, 2012 that the trial court must hold a hearing with live testimony within 90 days of the order and that all supplemental findings and conclusions of law must be returned to the Court of Criminal Appeals within 120 days of the order. Justice Cochran, joined by Justices Price and Johnson, issued a statement concerning the remand order. In that statement, Justice Cochran gave direction to the parties and the trial court on what needs to be decided in this matter. "The judiciary must be ever vigilant to ensure that verdicts in criminal cases are based solely upon reliable, relevant scientific evidence–scientific evidence that will hold under later scrutiny." Justice Cochran went on to say: "The problem in this case…is not that the science itself has evolved, but that it is alleged that the scientific testimony at the original trial was not fully informed and did not take into account all of the scientific evidence now available." Justice Cochran concluded by stating: "These are not easy issues, but fairness both to the applicant who is serving a sentence of life without parole and to the State and the memory of the child victim, demands that our verdicts will withstand the test of time such that the guilty are punished and the innocent are not. Further, public support of the American criminal justice system depends upon its confidence that the courts reach accurate verdicts based upon reliable scientific evidence."
In addition to wading through the scientific evidence, Judge Longoria will also hear testimony concerning whether the state withheld Brady evidence, whether trial counsel were ineffective and whether Hannah is innocent based on newly discovered evidence.

This case has received much attention because it involves an unusual death of a child due to sodium intoxication. Hannah and her husband Larry were fostering Andrew and were going through the process of adopting him. On October 2, 2006, Andrew began throwing up, acting lethargic, and had the chills at about 3:30 in the afternoon. Overton called her husband after he threw up the first time and he came home to help take care of Andrew. When Andrew's condition worsened, they took him to an urgent care clinic. He was admitted at 5:17 PM. He was transported to Spohn South Hospital and then Driscoll Children's Hospital in Corpus Christi. Medical personnel, who introvenously gave Andrew solutions that contained sodium, were not able to immediately diagnosis Andrew's condition. He died the next day. Hannah was charged with capital murder within weeks of Andrew's death, however Nueces County Medical Examiner Ray Fernandez, M.D., did not determine that the death of Andrew was intentional until after Hanna's arrest.
The official ruling was that Andrew died of hypernatremia because is sodium levels in his blood were lethal, but the physical evidence did not support intentional poisoning and the jury, when polled after the verdict, all said that they based the guilty verdict on a charge of omission. They did not believe that Hannah intentionally poisoned Andrew, but that Hannah, knowing Andrew was going to die, failed to seek medical attention fast enough.
For more information regarding Hannah's case, refer to the Free Hannah website, ABC's 20/20 , or the Texas Monthly.
If you were a loved one are seeking a post-conviction writ of habeas corpus contact the Law Office of Dayna L. Jones , an experienced writ attorney. Contact us at (210) 255-8525 to schedule an appointment with the attorney. Calls are answered 24 hours a day, 7 days per week.