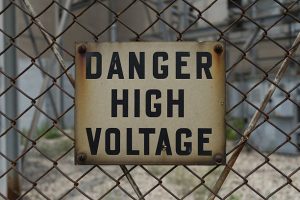 A very strange and appalling case out of a Fort Worth, Texas district court has made national news, but this time its not for the actions of the defendant. Judge George Gallagher from Tarrant County, Texas, ordered his bailiff to electrocute Terry Lee Morris with a stun belt when he would not directly answer the judge's questions. The federal Fifth Circuit Court of Appeals has explained that the stun belt "delivers a 50,000 volt electrical shock to the wearer when activated." Chavez v. Cocktrell, 310 F.3d 805, 807 n.1 (5th Cir. 2002). Morris was ultimately shocked three times.
Morris, who was on trial for soliciting sexual performance from a minor, was trying to object with the court proceeding with the trial and would not answer the judge's questions directly. Morris was complaining that he had a pending lawsuit against the judge and his defense counsel in the case.
Gallagher ordered his bailiff to shock Morris. After the first shock, this exchange followed:
THE COURT: Are you going to behave?
THE DEFENDANT: I'm an MHMR client.
THE COURT: Are you going to behave?
THE DEFENDANT: I have a history of mental illness.
THE COURT: Hit him again.
Morris then began explaining that he had a right to represent himself. After another exchange, the judge ordered him shocked a second time…and then a third time. Finally, the judge ordered his bailiffs to physically remove Morris from the courtroom. Morris, too scared to come back into court, was not present for the majority of his trial and sentencing. A jury found him guilty and sentenced him to 60 years.
While judges do have discretion on what manners they may to enforce courtroom decorum, the Eighth Circuit Court of Appeals found that "discretion has its limits" and reversed Morris' conviction and remanded it for a new trial. In a lengthy opinion that addressed the use of the stun belt in other jurisdictions and the physical as well as psychological effects the stun belt has on a person, the Court ultimately turned on constitutional grounds to decide this case.
The Court sustained Morris' first ground for relief where he asserted that the judge's use of the stun gun violated his constitutional rights "to a fair
trial, to confront the witnesses, to confer with counsel, to be present at trial, [and] to participate in his defense". The Court further held that stun belts may be used "only in extraordinary circumstances when immediate security concerns or flight risk justify use" and "the use of stun belts for other purposes, such as a method to enforce decorum or as a punishment for a defendant's obstreperous conduct, is constitutionally prohibited." According to the appellate court's website, it appears the State is planning to file a Motion for Rehearing En Banc. Requesting that an appellate court rehear a case en banc is asking all the judges on the court, instead of a panel of three judges, to consider the case.
If you or a loved one have been convicted of a crime, please contact the Law Office of Dayna L. Jones for your appeal. It is important to have a skilled appellate attorney to properly raise these types of important constitutional errors to ensure the integrity of our justice system is preserved so that all defendants receive a fair trial.